The 10th meeting of the Michiko Ishimure reading group was held on December 14, 2020 at 3 p.m. Masahisa Suzuki, Ching-yuen Cheung, and Hanako Takayama participated in this session. This time we saw Minamata: The Victims and Their World, a documentary film by Noriaki Tsuchimoto, in Room 11 of Building 101.
In the first chapter of the third part of Paradise in the Sea of Sorrow (Kugai Jodo) , "Snow in the dead capital," lots of incidents after 1970s appear, such as the sit-in outside the Chisso building in Tokyo. There are also descriptions of camera crews who reported on the Minamata tragedy. According to this literary work, Ishimure also saw the non-edited film of Minamata on 13 September in 1970. There is an explanation of her denial of being filmed with Dr. Hosokawa. Since such film-related accounts sometimes appear in Paradise in the Sea of Sorrow, we had long wanted to see the film itself. This time, we were able to.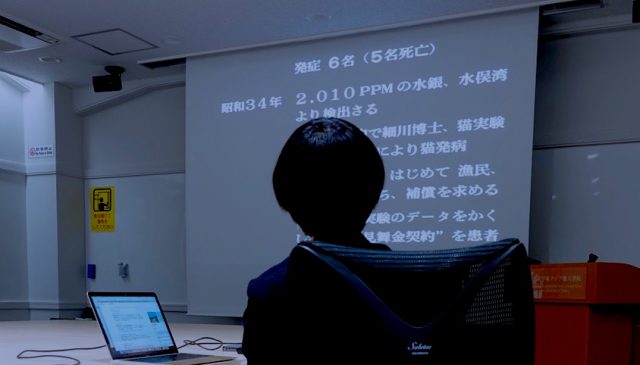 Minamata primarily consists of interviews of twenty-nine families of Minamata patients. There are two versions of the film: an abridged version and a full version. We watched the latter. We confirmed the inclusion of the following scenes: t the annual general meeting of Chisso, and the scenery of goeika rehearsal where Ishimure herself appears.
Since the film is long, we only had a short discussion after watching it. Cheung pointed out the similarity with the documentary film Fishermen in Shinchi town (新地町の漁師たち) by Toru Yamada. Masahisa remarked that the shots of daily life, such as a singing match between birds, are impressive. He paid particular attention to the close-up of patients. That means the closeness of filmmakers and objects. There was no simple distinction between subject and object. We could see how this film was made by both the camera crew and Minamata's people from the scene where they prepare to shoot the goeika . We also talked about some court-related episodes that are not described in Ishimure's texts. It was impressive that the member of the Accusation Association went to many parts of Japan. As the opening scene begins with the sea belonging to Kagoshima, this film suggests that the Minamata experience is not limited to Minamata.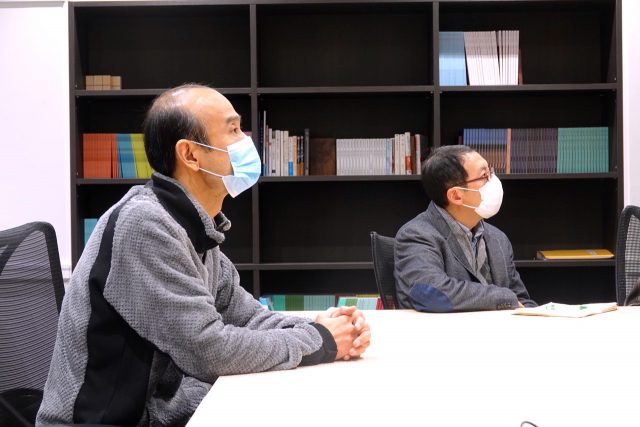 Reported by Hanako Takayama (EAA Project Assistant Professor)