On May 12th, 2023, a lecture by prof. Shimon Dotan (NYU/ Film Director/ Author) was held at EAA seminar room, bldg. 101 in Komaba Campus, UTokyo. The title of the lecture was "Representation of the Other in Political Cinema——The Comfort Zone of Absolutism in 'Battleship Potemkin'; The Absence of The Other in 'Triumph of the Will' and Moral Ambiguity in 'The Battle of Algiers'." Prof. Takahiro Nakajima (Director of IASA/ EAA Academic Adviser) moderated the session, and prof. Netaya Anber (NYU/ Film Producer/ Author), who has worked on the film making with prof. Dotan, gave some comments to the lecture (please refer to this article on their recent work Cyber Everything).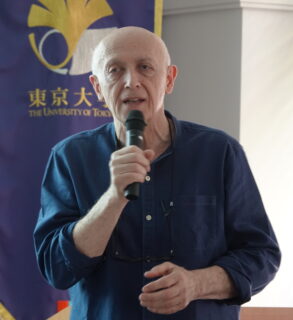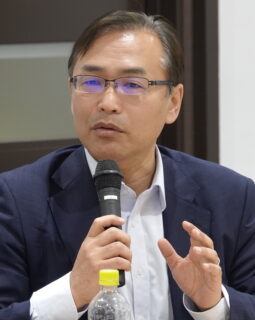 At the beginning of the lecture, prof. Dotan asked a question to the audience——What is political cinema? He examined this question analyzing representations of "other" in three films——Battleship Potemkin (1925), Triumph of the Will (1934) and The Battle of Algiers(1966).
Battleship Potemkin (1925), which was directed by Sergei Eisenstein as the 20th memorial of Russian Revolution of 1905, is very famous for its use of montage like in the scene called "Odessa Steps," and has greatly influenced other works up to the present day. In this film, the extreme dichotomy of "good" and "evil," "us (=proletariat)" and "them (=Imperial Russia as the enemy)", is highly symbolic.
Comparing to this, in Triumph of the Will (1934), which is a documentary film directed by Leni Riefenstahl at the request of Adolf Hitler, we cannot see such a dichotomy, but rather find the absence of the "other" in this film. It makes active use of the latest technology, including the effective use of aerial shots to evoke God's point of view, and the parade through the crowds is shot from behind Hitler to effectively show the sense of unity and excitement of the occasion.
The last referenced film, The Battle of Algiers (1966) by Gillo Pontecorvo, depicts both Algeria and France in the Algerian War of Independence. The film, a co-production between Italy and Algeria, does not coordinate a clear conflict between good and evil, but rather depicts violence (especially the use of violence against innocent civilians) by both Algerian and French forces, and does not allow either side to occupy an ethical position. Prof. Dotan called it as "moral ambiguity."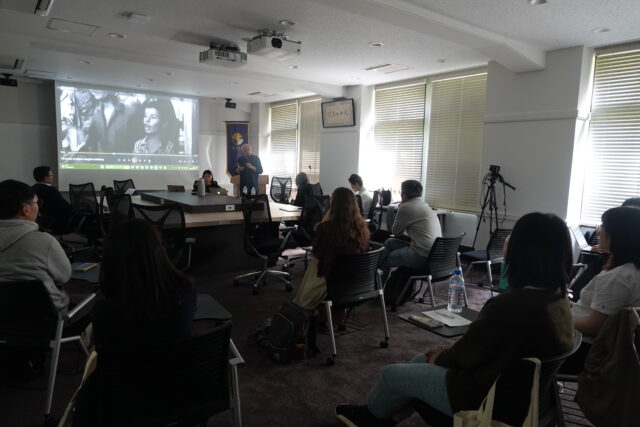 The lecture was followed by a discussion on topics such as what constitutes the borderline between documentary and fiction, and what makes propaganda films different from "political films." All participants enjoyed the luxury of having the world-renowned film director, prof. Dotan himself give a detailed analysis of some of the most iconic films in the history of cinema.
Reported by Sana Sakihama (EAA Project Assistant Professor)